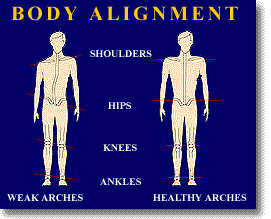 INFORMATION for DOCTORS & THERAPISTS WHO WANT TO HELP THEIR CLIENTS
HOW DO I FIT THESE ORTHOTICS TO MY PATIENTS?
If you are a doctor or therapist and want to help your clients refer them directly to us for personal service.  Or Contact Kevin if you are interested in fitting these orthotics to your patients through your office or practice. We provide full service and we will do the fittings for you by fax or mail.  If you want control over the fitting process we can train you to select the proper fitting.
HOW DO THE ORTHOTICS WORK?
These orthotics are made in the shape of healthy feet, and are stable and flexible. With regular use the feet will adapt to the healthy position because of the stability and flexibility.  The orthotics retain their shape and last for 10-20 years, depending on the user. 
Please see more information on technical aspects of the orthotics that can be found on the Technical Discussions page in the FAQ section.

The Brannock Device is the most common method of measuring feet for shoe sizing.  It is an interesting tool, but is not accurate for healthy shoe sizing.  In MOST cases The Brannock Device suggests a shoe size that is too small and that restricts the toes in an unhealthy way.  Restricted toes are one of the largest factors in unbalanced feet and poor posture.
Large sizes in women's shoes can be hard to find locally.  Please refer your patients to Kevin's Links page which has a list of sources.

Many of your patients could benefit from trying different socks than what they are currently using.  Kevin's Links also includes links to sock manufacturers and discount warehouses that stock high quality socks.